If you're in the market for a particularly fun fungus to tell your friends about, I'd suggest the pathogenic yeast, Cryptococcus.
Cryptococcus is primarily known for causing Cryptococcal meningitis—a leading cause of death in AIDS patients. This is Cryptococcus neoformans, which, while more common really only infects the immunocompromised. Its cousin, Cryptococcus gatti, frequently infects immunocompetent, healthy individuals and is an important emerging pathogen. Weirdly enough, C. gatti infections all seem to come from trees. The fungal pathogen has dispersed all over the world surprisingly, scientists believe, due to continental drift. In the past few years, there's been large outbreaks of the less common Cryptococcus gatti in the Pacific Northwest/Canada and South Africa.
Sex has something to do with it
Cryptococcus needs a lot of sugar to reproduce, particularly inositol which is all over the human brain and spinal cord which is probably why Cryptococcus is known for causing meningitis. Cryptococcus (depending on the species) has between about 6 to 12 genes involved in inositol transport while most fungi have only about two. While inositol is needed for reproduction and results in higher virulence, which mating type the fungus is may also play a large role in pathogenicity.
In yeasts there are two mating types, MATa and MATα. MATα strains are able to produce an extensive hyphen phase in the haploid state called monokaryotic fruiting. All the clonal C. gattii VGII (or C. deuterogatti) that have been infecting people have notably been from the same mating type: Matα. MATα strains are capable of same-sex mating which could be the origin for the outbreak around Vancouver. In C. neoformans, MATα strains which have their own genes specific to that mating type, are associated with higher virulence (but there's no evidence of this with C. gattii).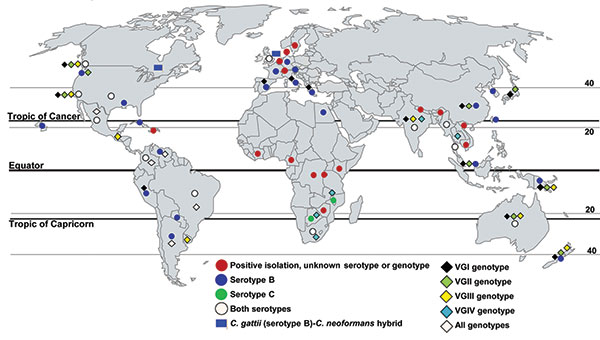 Hypermutator
Researchers found that several isolated C. deuterogatti strains contained mutations in MSH2, one of the genes involved in mismatch repair (genes that fix DNA replication errors). The human homologous MSH2 gene has the same effect where humans with mutations in MSH2 can have Lynch Syndrome, where they're prone to various cancers.
The mutations in MSH2 in fungi were tested and resulted in their genomes mutating at a faster pace but growing at the same rate as wildtype Cryptococcus strains. When exposed to stressful conditions however, such as antifungals like rapamycin and FK506, the mutant strains rapidly took over as they could quickly acquire resistance to drugs. In the process of acquiring drug resistance the strains actually decreased in virulence and were significantly weakened compared to the outbreak strains.
So the hypermutators are much more fit in stressful conditions and can rapidly outcompete the wildtype strains, however they make a less fit pathogen without significant selective pressures present. This brings up an interesting question in host-pathogen evolution—what kind of genome makes for an ideal pathogen? Fungi in general are lousy pathogens, especially in people. Certainly white-nose syndrome in bats and chytrid fungus in amphibians have devastated populations but there aren't a whole lot of "in between" fungal pathogens. Having a lower mutation rate than bacteria or viruses contributes to their easiness to treat. While in bacteria a hypermutator strain rapidly evolving drug resistance usually sounds like a bad thing, in this case hypermutator strains taking over would at least lower the virulence and fitness of the fungus as a pathogen.
It's even worse in men
As is the case with many pathogens, there is an increased incidence of the disease in men and when it does appear mortality rates are significantly higher in men. C. neoformans isolates from females had a slower growth rate and released more capsular glucoronoxylomannan (GXM), (a virulence factor and immunosuppressant). Testosterone was associated with higher levels of GXM release while 17-β estradiol was associated with lower levels and slower growth rate. Furthermore, macrophages from females were better at fighting off C. neoformans than macrophages from males which were more damaged from the infection. This may explain why infections are more common in men.
While Cryptococcus neoformans has been a common issue for a while, Cryptococcus gatti has only recently emerging as a prominent pathogen, which scientists believe could be the result of climate change. These Cryptococcus infections infect healthy people and are fatal if left untreated.
Sources:
The second STE12 homologue of Cryptococcus neoformans is MATa-specific and plays an important role in virulence. 

Y. Chang-L. Penoyer-K. Kwon-Chung – Proceedings of the National Academy of Sciences – 2001

The Role of Host Gender in the Pathogenesis of Cryptococcus neoformans Infections. Erin Mcclelland-Letizia Hobbs-Johanna Rivera-Arturo Casadevall-Wayne Potts-Jennifer Smith-Jeramia Ory – PLoS ONE – 2013
Highly Recombinant VGII Cryptococcus gattii Population Develops Clonal Outbreak Clusters through both Sexual Macroevolution and Asexual Microevolution. 

R. Billmyre-D. Croll-W. Li-P. Mieczkowski-D. Carter-C. Cuomo-J. Kronstad-J. Heitman – mBio – 2014