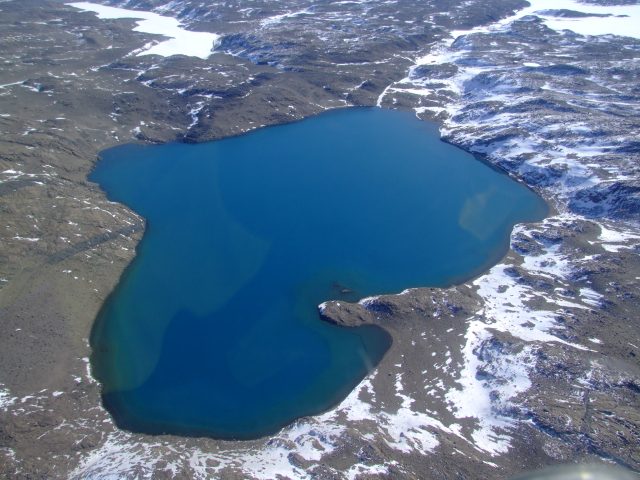 In the Vestfold Hills region of Antarctica, a team of researchers have discovered a unique method of genetic exchange happening in a deep lake—so salty it remains unfrozen down to minus 20 degrees. In it, lives members of Haloarchaea, a class of Euryarchaeota that thrive in high salt conditions. These extremophiles are able to thrive by having extremely high rates of horizontal gene transfer, swapping genes with other genera even, to more rapidly evolve. Despite the shockingly high rate of gene sharing, the lake still maintains distinct species with no one dominant species winning out. The lake is incredibly cold, providing very little energy, so the archaea in this area only produce about six generations a year because they have to metabolize and reproduce so slowly.
While people have been aware of the archaeal extremophiles there for some time, it was only recently that anyone noticed their plasmids.
The team discovered plasmids in one strain that were not behaving like regular plasmids. Plasmids are pieces of DNA independent of the host genome which replicate independently and are kept around usually only if they have some beneficial gene to the organism (e.g. antibiotic resistance). What differentiates a plasmid from a virus is the method of transmitting genetic information.
For background, a plasmid typically relies cell-cell contact or "conjugation"–when a sex pilus of a bacterial cell containing the plasmid will combine with another bacterium to transfer the plasmid, or is picked up as naked DNA. Other horizontal gene transfer methods would be transduction (genetic transfer via a virus) or transformation (the collecting of naked DNA from the environment).
Viruses travel, encased in a protein coat, and rely on lysing or budding off their host cell and finding new cells to attach to and enter (or, in the case of retroviruses and lysogens, integrating in the host DNA and being activated later in any of that host's progeny).
But these plasmids are acting like viruses. The pR1SE (plasmid) encodes proteins that go into the host membrane and allow the membrane to bud into vesicles containing plasmid DNA. These vesicles could then infect more of the archaeal species, plasmid-less members. The plasmids could then replicate themselves in their new host cell.
Besides this just being cool because it's a way we've never seen before of transmitting DNA (and because anything involving archaea in extreme environments is cool), it also may be representative of some early stage of viral evolution.
Viral evolution is a hugely debated topic with no one really agreeing on how viruses came about, whether they evolved many times or once then diversified, which came first in the evolution of life etc., but this does seem to support the idea that at least some groups of viruses may have started as plasmids.
Some people think the obvious answer to viral evolution is gene reduction (a lot of giant virus fans), others think it's gene addition (what this supports). I think the answer is gradually proving to be both—that viruses have evolved independently many times throughout history, and you could probably find at least a few examples to best support each major theory.
Source:
Susanne Erdmann, Bernhard Tschitschko, Ling Zhong, Mark J. Raftery, Ricardo Cavicchioli. A plasmid from an Antarctic haloarchaeon uses specialized membrane vesicles to disseminate and infect plasmid-free cells. Nature Microbiology, 2017
2. High level of intergenera gene exchange shapes the evolution of haloarchaea in an isolated Antarctic lake. Ricardo Cavicchioli et al. PNAS. 2013